Flawless Websites have been upgraded to WordPress 5.0. Named "Bebo," this is the biggest WordPress version update in a long time.
Why The Big Change?
WordPress competes with  other website building solutions such as Wix and Squarespace. Looking at WordPress market share, from 2017 to 2018 WordPress grew around 17.3%. In contrast, its top competitors grew at much higher rates. Squarespace grew by 180% and Wix grew by 233% in the same period. While WordPress is an open source project, it must compete to grow and maintain its place in the web builder market. Premium page builder plugins have been by far the fastest growing WordPress segment because people want easier ways to build and manage their websites.
I'm going to take you through what's new and what you have to do to use WordPress 5.0.
Gutenberg
The New WordPress Gutenberg editor.
The biggest change in WordPress 5.0 is the introduction of the Gutenberg Editor. Gutenberg is an entirely new interface for adding, editing, and managing content in WordPress. It makes it easy for anyone to create rich, flexible content layouts using content blocks. All types of page components are represented as blocks, which means they can be accessed from a block menu, dragged and dropped anywhere on a page, and edited to create any custom layout desired. Gutenberg pushes WordPress into the website builder market. In plain English, this means WordPress is now a lot easier to use.
Blocks are the main units in Gutenberg for organizing and composing content. Strung together they create content for a webpage. There are different Types of blocks like text blocks and image blocks. Blocks are hiearchical, in that one block can be a child or parent to another block. For example, a two-column Columns block can be a parent block, and each column can have multiple child blocks in them. Using the Blocks API, plugins and themes can connect and register their functionality with Blocks and extend the capabilities of the editor.
Gutenberg is built on React, the very popular JavaScript framework used and maintained by companies like Facebook and Instagram. Gutenberg also takes advantage of other modern technologies such as the REST API, ESnext+ JSX, WebPack, etc. Check out Riad Benguella post on how Gutenberg is changing WordPress development.
To make sure all plugins and themes continue to work on existing sites, or for those not ready for this big change yet, disable The Gutenberg Editor and install and activate the Classic Editor plugin. Using the Classic Editor plugin also makes sure site administration features look and function the same familiar way. Note that the Classic editor plugin will only be officially supported until December 31, 2021.
The New Twenty Nineteen Theme
The new Twenty Nineteen WordPress theme.
The new Twenty Nineteen theme was built to use the power of the Gutenberg editor. It is designed for the new block editor, features a clean type focused layout, and was developed to meet a variety of use cases. It is an excellent theme choice for business websites, artist/photographer blogs, and non-profit organizations.
Other Features
WordPress 5.0 offers a few other features to be aware of. Here is a summary of some of them.
New Release Model
WordPress 5.0 changes how new releases of WordPress will be handled. WordPress is moving away from the old scheduled release model to new milestone based releases. Gone are the two major scheduled releases each year with a bunch of smaller updates in between. Instead future releases will only be made when significant and meaningful releases are ready. This allows the development team to stop pushing to meet predetermined release dates and focus on delivering new features when they are ready.
A More Intuitive Site Building Experience
WordPress is the world's leading self hosted website platform. The focus is on continuing to be the leader in easy to use website builders, and compete with the rise of new and popular website builders.
Improved WordPress Rest API
The WordPress Rest API helps developers create awesome websites by making it easier to pull data into, and send data from WordPress websites. This enables WordPress sites to do really cool things with other apps and systems like MailChimp, Stripe, Google Analytics, etc.
Easier and Better Themes
Themes power how a WordPress site looks. The new Gutenberg editor makes theme creation easier and more accessible to anyone who doesn't know how to write code. This gives site owners more control over their site, and makes it less costly to customize the front end user experience.
The Downside
There is a downside to this update. Most (not all) WordPress themes and plugins have to be rewritten to work with Gutenberg. So be sure to update plugins and themes before upgrading to WordPress 5.0. Yoast SEO is a WordPress plugin developer that got ready for Gutenberg really early. They released their first Gutenberg update back in July 2017.
Should You Update To WordPress 5?
In my opinion the answer is YES, as long as you install and activate the Classic Editor plugin. Using the Classic Editor plugin makes sure you keep the current experience for site users, current plugins and themes keep working, and your site stays up-to-date and ready for the future of WordPress. WordPress 5 represents a new era of change that promises to help WordPress live up to its promise of being truly easy-to-use, flexible in ways proprietary platforms will never be, and open to provide portability and true ownership.
WordPress 5 Update Checklist
Follow these steps to update to WordPress 5.0.
Setup a Staging site (if your host has this feature).
Backup your current site files and database.
Update plugins and themes (BEFORE updating to WordPress 5.0).
Update to WooCommerce 3.5.1 (BEFORE updating to WordPress 5.0).
Install the Classic Editor plugin so current plugins and themes don't break.
Troubleshooting Tips for WordPress 5 Updates
White Screen?Restart PHP and delete the full page cache on your WordPress site.
Switch to a default WordPress theme like Twenty Seventeen or Twenty Nineteen. See if that fixes any issues. If this fixes the issues, then reach out to your theme developer and tell them about the problem.
Deactivate ALL your plugins and see if that fixes the issue. Then reactivate plugins, one at a time, to find the plugin(s) causing issues. When you find the plugin causing the problem(s), deactivate the plugin and contact the plugin developer to alert them of the problem. Contacting the developer helps the developer make their plugin better and reliable. It also keeps the WordPress community working effectively.
What Happened To My Current Content?
Content you created in the old classic editor opens in the new Gutenberg editor, and appears in one long TinyMCE editor box. This keeps the original content formatting of all of your posts and pages in Gutenberg. To switch and use the Gutenberg editor, select the "Convert to Blocks" option.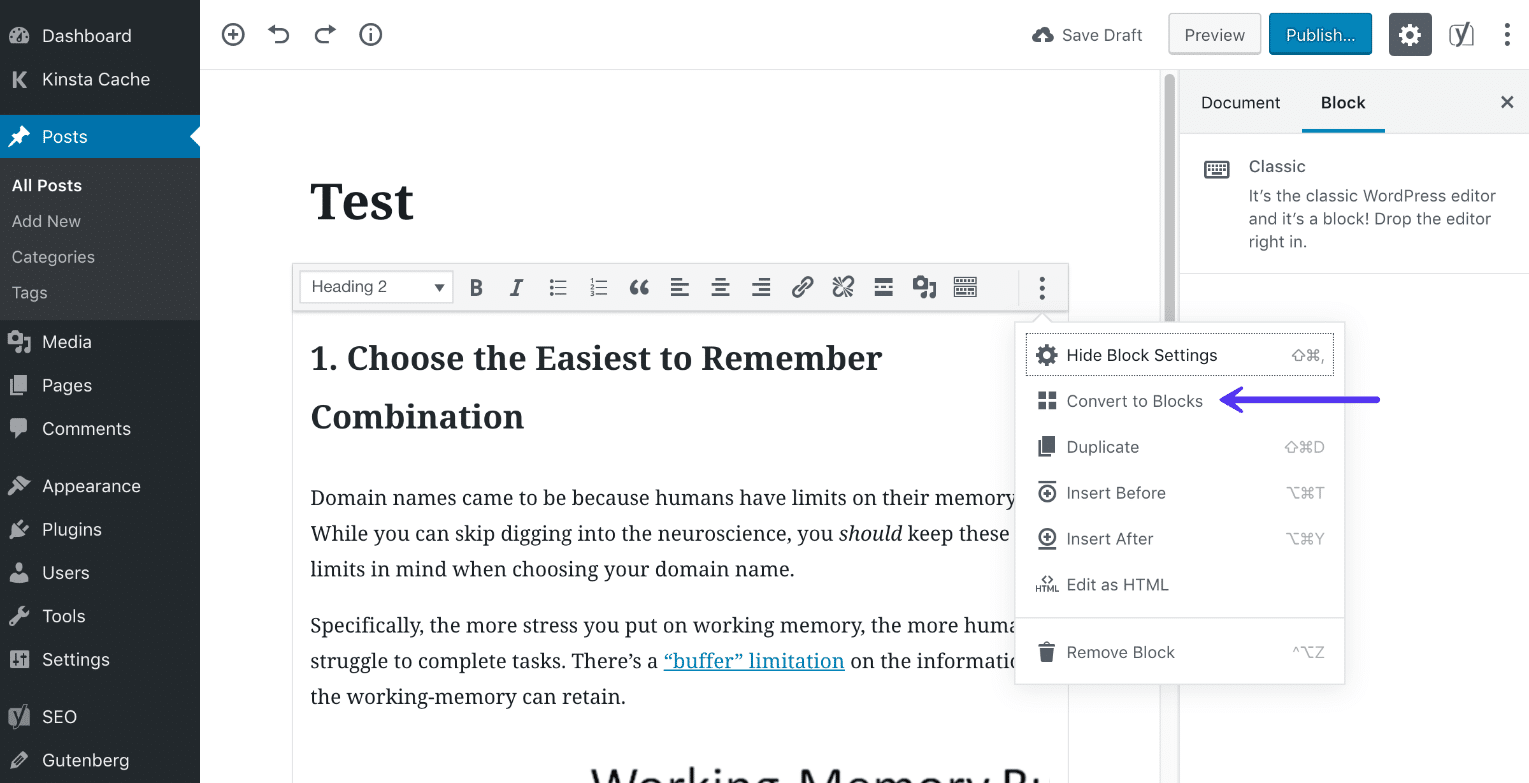 This converts your content automatically into new Gutenberg blocks.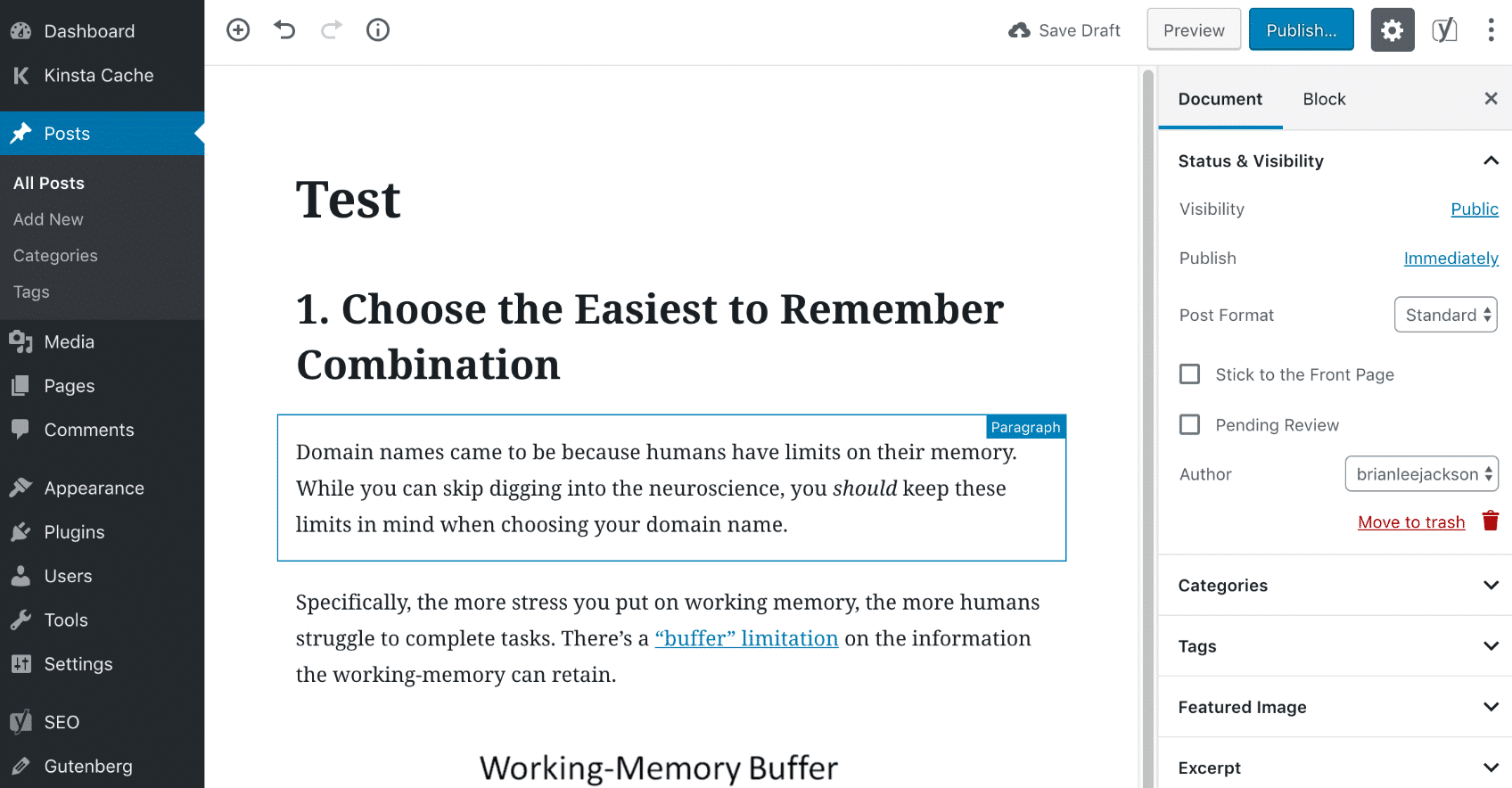 Shortcodes are handled the same way. In this example, a contact form was placed using a shortcode in the classic editor. Select "Convert to Blocks" again in the Gutenberg editor.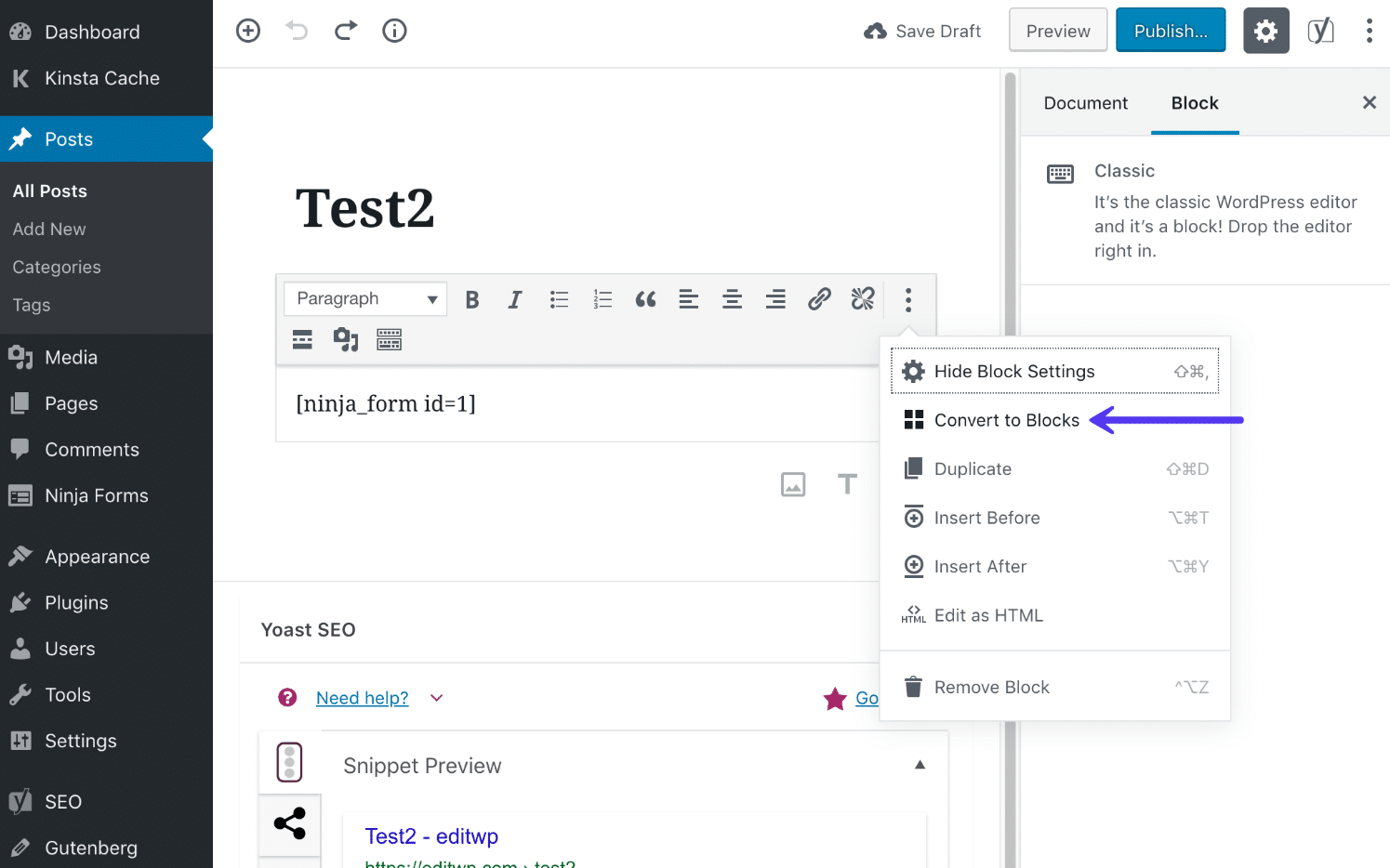 The shortcode is converted into a Gutenberg Shortcode Block automatically. The contact form renders fine on the front-end.
WordPress 5.0, with Gutenberg, is the biggest update to WordPress in years. It affects all WordPress users, changes how they use the editor and create content. It also changes how developers code plugins and themes. What do you think of WordPress 5.0 or Gutenberg? We want to hear what you have to say about it. Submit a comment below, or email us.
If you enjoyed this article, we think you'll love The Flawless Resume Website. It's an awesome personal resume website that you setup in just 4 clicks. It's fully pre-configured and powered by WordPress and the Divi theme. Check it out and build your personal brand with a gorgeous online presence that you'll think is… flawless. (Pun intended.)